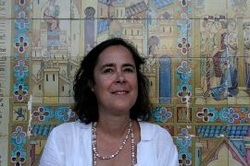 María Rosa Menocal is a scholar of medieval culture and history. She received her BA, MA, and PhD in Romance philology from the University of Pennsylvania and taught at Bryn Mawr College and Penn before joining the Yale faculty in 1986, where she is Sterling Professor of the Humanities and Director of the Whitney Humanities Center.
Menocal has written extensively on the intellectual and cultural history of the Middle Ages, and is the author of
The Arabic Role in Medieval Literary History: A Forgotten Heritage; Writing
in Dante's Cult of Truth: From Borges to Boccaccio;
and
Shards of Love: Exile and the
Origins of the Lyric.
In the spring of 2007 an international conference commemorating the twentieth anniversary of the publication of
The Arabic Role in Medieval History
, and its impact on medieval and philological studies, was held in Toronto; the volume from that conference,
A Sea of Languages: Rethinking the Arabic Role in Medieval Literary History
, will appear with Toronto University Press in 2013. The original work has been reprinted and translated into Arabic.
Her most recent books include
The Ornament of the World
, which has been translated into eleven languages and is being made into a documentary (
http://www.kikim.com
), and a coedited volume in the Cambridge History of Arabic Literature series,
The Literature of Al-Andalus
. In 2008 Yale University Press published
The Arts of Intimacy: Christians, Jews, and Muslims in the Making of Castilian Culture,
a broad-ranging and richly illustrated collaborative project, written with art historian Jerrilynn Dodds and Arabist and historian Abigail Krasner Balbale. The book is dedicated to revealing the extent to which Castilian identity is deeply rooted in the confrontation, interaction, and at times union with Hebrew and Arabic cultures. It was named a Best Book of 2009 by Marina Warner in the
Times Literary Supplement
and won the Albert Outler Prize given by the American Society of Church History for 2010-11.
Menocal has been awarded Mellon and Guggenheim fellowships and in 2011 was named a fellow of the Medieval Academy of America. She has held a number of administrative roles at Yale, including Chair and Director of Graduate Studies in Spanish and Portuguese, Director of Special Programs in the Humanities, and Chair of the Humanities and Arts Subcommittee of the Yale College Curriculum Review Committee.
---